Alternative for no longer produced LINDAPTER F2 type assembly
LINDAPTER Eyebolt Nut Clamp assembly
Type F2
( Concerns product codes F206ENC, F208ENC, F210ENC, F212ENC, F216ENC, F220ENC and F224ENC )
On placing a recent order at the Lindapter company for their M16 type F2 complete eyebolt nut clamp assemblies, we were informed that the factory has discontinued manufacture and distribution as per July 17th 2007.
Because there is no compatible alternative for pressure vessels within the current Lindapter programme, we had to source elsewhere for compatible replacement parts, to fit on existing equipment, notably our older pressure vessels.
We are now pleased to offer as replacement spare parts a choice of two alternative metric size combinations, fitting your existing equipment.
In comparison to the F2 types both alternatives offer increased admissible tensile strenght.
Our Alternative I has almost identical measurements as the F2 types, thus will most likely require no alterations to your equipment.
Our Alternative II is our recommendation for any critical application.
For further information please call, fax or e-mail us:
A. GEZANG & CO BV - Westvlietweg 65-P, 2495 AA Den Haag, Holland.
Tel. +31-(0)20-682 22 55 Fax +31-(0)20-682 82 46

ALTERNATIVE I :
For non-critical applications
(e.g. to secure lid on vessel, that is used for pressures under 0.5 bar; inspection lids, tanker lids etc.):
We supply complete combinations for metric sizes M8, M10, M12, M16, M20 and M24: Eyebolt (various lengths) + segment BD-1 + steel washer + Nut. The eyebolt is made of steel class 4.6. All items are zinc electro-plated or hot-dip galvanized.
Example: Eyebolt M16 (steel class 4.6) length 110 mm + DB-1-16 Segment + Washer M16 (Din125-1A) + Nut M16 (Din 2510NF).
For further details, prices and delivery-times, please call us at tel. number +31-20-6822255 or send an e-mail to info@gezang.nl.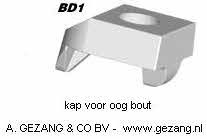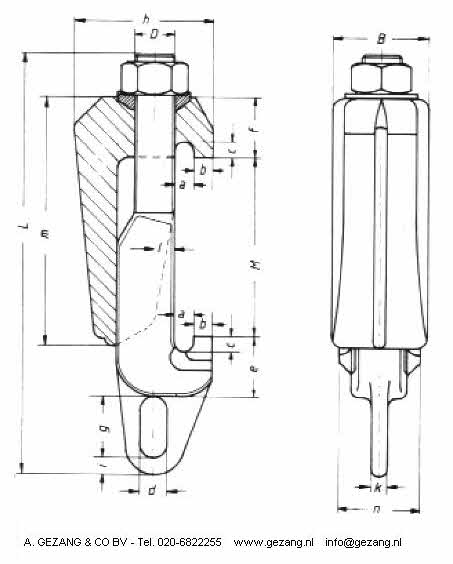 ALTERNATIVE II:
For critical applications :
Here both segments together form one set of jaws, tightening the rim of the lid onto the rim of the vessel (see sketch). The oval shaped eye on the bolt-segment is not intended to carry stress.
The segments are made of drop forged steel in: Quality class 5 = steel ck35, material no. 1.1181; Quality class 8 = steel 34Cr4, material 1.7033; Quality stainless steel A4 = steel X6CrNiMoTi17 122, material no. 1.4571 (= AISI 316Ti).
Available in metric sizes : M10, M12, M16, M20, M24, M27, M33, M42 and M56.
Example: two-segment M16 screw clamp, made of drop forged steel class 8, lenght L (= opening between the jaws is 55 - 85 mm) + steel Nut M16 Din 2510 NF + steel washer Din 6319. Permissible tensile load 27.6 kN (27,600 N, at 20 degrees Celsius, per assembly).